Project Description
Inspiring young women in the Arts
elle (Emerging Legacy Leaders East) is a new coaching and networking programme supported by The Legacy List, the charity set up by the Mayor of London to support the legacy of the 2012 Olympic Games. Its mission is to make connections between people and the Queen Elizabeth Olympic Park through developing high quality art, education and skill building initiatives to create brighter futures for the local communities.
elle focuses on women at the beginning of their careers who are embarking on a creative career path. Its purpose is to enable women to be better equipped to deal with the challenges they face, the choices they make and the leaders they will become.
How are we helping?
The Legacy List approached 12 arts and culture organisations in east London to ascertain their interest and commitment to giving their employees time to be coached and get involved. The link with these cultural organisations is a further strength of the programme, which aspires to encourage working in partnership across the local arts and cultural sector.
The pilot was launched in September 2014 with the first cohort of elle associates – women from the 12 organisations. Leaders Lab has been involved from the start. We have designed a bespoke 6-month coaching programme for women in the early stages of their careers. Associates undertake over 24 hours of coaching focused on aspects such as self-confidence, managing upwards, time management and networking skills. At the end of the programme, each associate is asked to give a presentation demonstrating their learning.
Alongside the programme, inspirational men and women from a range of sectors form a network of 'elle experts' who contribute to a series of events designed to support the learning outcomes of the coaching sessions. Events from speed networking to debates on leadership provide opportunities for associates to test their learning in real but safe environments.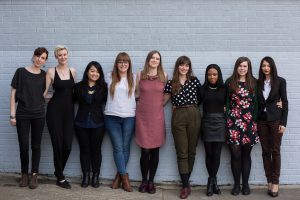 The elle associates 2014-2015. Photo © Ollie Harrop
We hope the first cohort of associates, who have already demonstrated the value and impact the project is having on their careers, will become a new alumni network, continuing to benefit from the networking events and their connection with the programme. This will help them sustain their networks and contacts, and they will have the opportunity to offer their advice and experience to new associates.
I'm very happy with how it's going with the coaching, it's been a complete hit with the associates and their employers.
Being part of elle has reminded me that I count. I count in terms of what I can offer my field and what I can offer others around me. What I say and do impacts others all of the time, so giving the best of me as much as possible is pertinent to succeeding. elle has helped me on a pathway to get the very best out of me.
Get In Touch
Learn more about our team here and how our expertise can help you and your team achieve these results.
Call us on 01865 881056 for an informal chat about how we can help.